Hello there! Today I'm doing something different and something that it completely out of my comfort zone. I am joining the creative closet linkup with an outfit post! I have been following these linkups from the moment they started, and I always thought it was such a clever idea! I am also one of those people who has a closet full of stuff and never anything to wear. So picking a theme and going inside my own wardrobe to style an outfit around it would make a good exercise for me.
I always told myself I would join one of these linkups one day. And than I saw this prompt pop up. I am completely blazer obsessed, so I knew it was now or never. If I didn't have the guts to join this one, I knew I would chicken out forever. So here I am, with a picture I took myself before going out for a lunch date and with a tantrum throwing toddler infront of me on the floor. My life is so glamorous, Haha! But let's get back on track here. I went for the most basic outfit ever (jeans, a white tank top and heels) and dressed it up with a blazer and a few of my favorite acccesories. So let's have a look!
The blazer is the Only Sanne Blazer in the color Dusty Pink I believe. I got it 3 years ago when I was pregnant with Charlotte. I love the color, but the material is really thick and stiff, so that it's not always the most comfortable piece to wear. For work it's absolutely fine, but for crawling over the floor with a toddler there are definitely other pieces I prefer!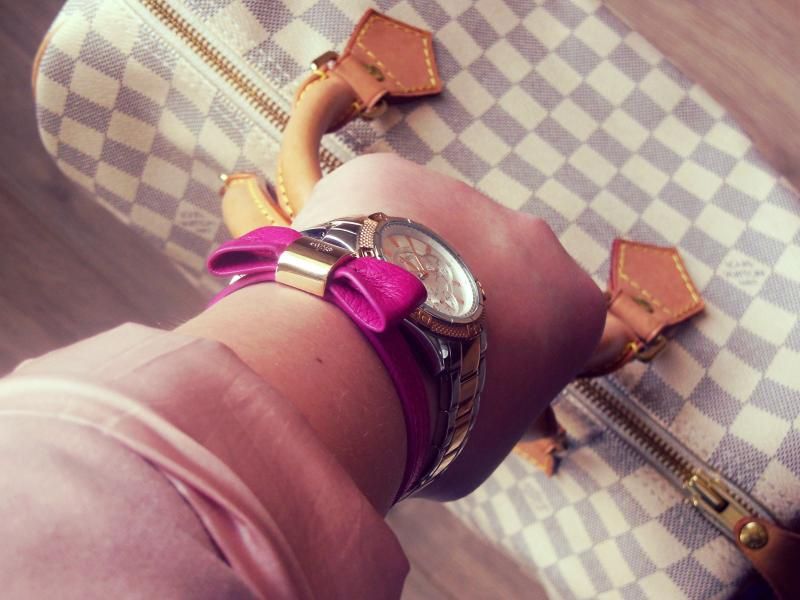 Can we just acknowledge the fact that this picture looks complely blog worthy? Yes? Good! :) These these are definitely my favorite accessories to date! The watch is the Guess Mini Phantom in silver/rosé and the bracelet is the Mulberry Bow bracelet in pink. I wear these two items every single day. The bag is my favorite bag for the summer and when I'm not out with my daughter (so that pretty much means I take it with me to work during the summer months). During the winter I prefer a bag that stands rain and snow a little bit more than this one. The leather stains pretty easily. My daughter drooled on it in the first week I got it, and the stain is still visible. But that just brings character to the bag right? :) It's the Louis Vuitton Speedy 30 in Damier Azur by the way.
The scarf is the Mulberry Tamara scarf in the color oak. I purchased it last december and it's my absolute favorite scarf at the moment. It just instantly upgrades any look. Everything just looks a little more fancy when you pair it with a Mulberry scarf. It does crinkle up a bit though, so I 'm still figuring out what to do with that. I am not supposed to iron it, but if the crinkles keep bothering it, I might just give the good 'ol iron a try anyway.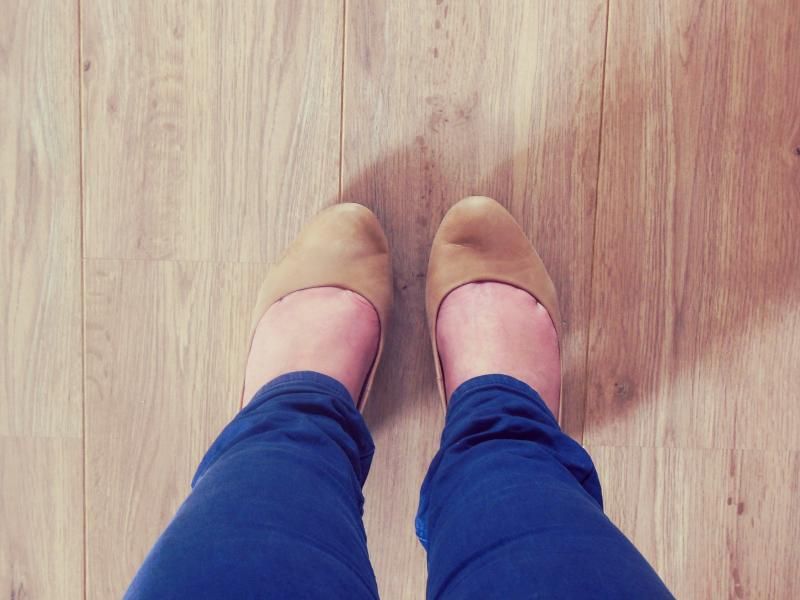 And than the rest of the outfit. The jeans are the Esprit EDC Slim Low Rise Jeans in the color cinder blue. I really love these jeans, I actually own them in a couple of different colors. They just fit my body type really well and they feel very comfortable on. The shoes I got on sale about two years ago. They were ridiculously cheap for good quality all leather shoes. I think they were the last pair and I ended up paying 20 bucks for them. They are by the brand Linea Zeta and they are very comfortable. I could walk for miles in these. And the last item (not shown in picture) is a plain white tanktop by H&M.
So, are you just as blazer obsessed as I am?