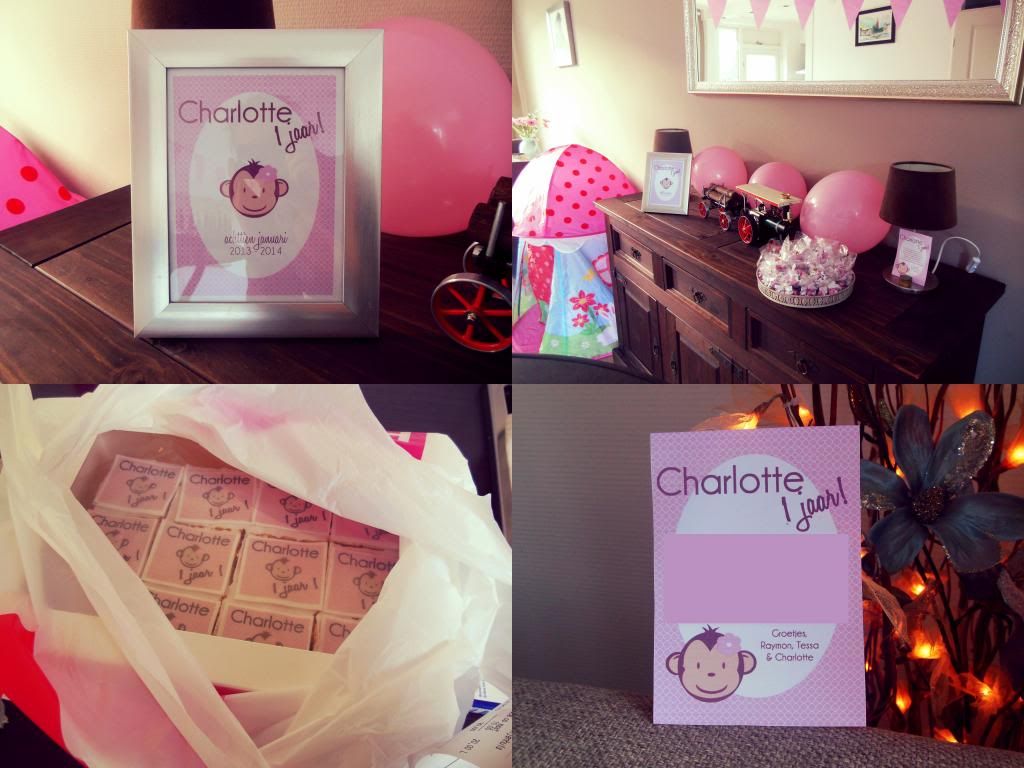 As I mentioned in my previous post, Charlotte is one year old! Unfortunetly things didn't really go as planned, but Charlotte is doing really well now! She got released from the hospital and we're working on her recovery at home. She is expected to make a full recovery! Yay! :) Here are some pictures from her would a have been party. Now it's not going to waste completely. We're planning a small celebration next weekend. We're actually celebrating her birthday on my original due date now. I thought that was cute!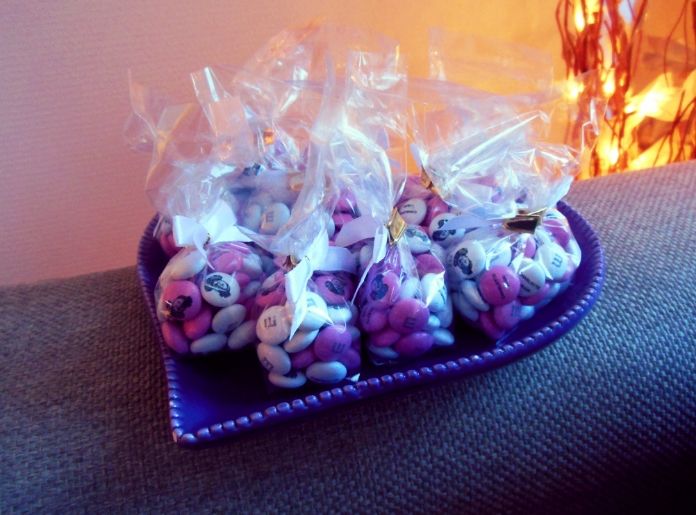 I just love these personalized thank you gifts we had made for her! They are small bags of M&M with the text 'Charlotte 1 year!' and a picture of our little nugget. I used this service by M&M's for the hubby's 30th birthday, and I thought it would be a cute for this occasion as well! We also used these as a gift for the daycare personnel.
Since I don't believe in sweets for small children, we bought these educational sesamestreet booklets to give away to the kids. We wrapped them in a purple ribbon and a cute little purple name tag to match!
Weight and Height
Charlotte is such a big girl now. She weighs 18,5 pounds! I have no idea how tall she is though. They weren't able to measure her during the last check-up. She threw a tantrum and would not cooperate. She definitely has a mind of her own!
Clothing Sizes
Charlotte is still wearing her 9 to 12 month clothing and still wears a size 3 - 4 nappies. She already has plenty of clothes to get through the winter and spring so we started shopping for next summer and winter already. I'm begging the hubby to take us to the designer outlet soon for some serious retail therapy! I love those little designer clothes, but I don't like paying the full price for them since they grow out of them so fast at this age. So some outlet shopping would be just perfect for us! Hopefully I'll be able to do a haul soon!
Eating
Charlotte can eat just about anything. We don't have to chop things up anymore, she can handle big chunks just fine. Drinking is also getting a bit better. She can now drink on her own from a small cup, which definitely helps her fluid intake!
Development
Charlotte started walking! It started about a week before her first birthday, and she looks so big and grown up doing it! She's not a pro yet, but she's starting to become really good at balancing and making turns and stuff. I know walking before the first birthday may sound fast, but to us it took ages! Charlotte started standing and getting mobile so fast, that we were absolutely sure that she'd already be walking at around her 11th month, so having to wait for almost en entire month really seemed forever! She also learned alot of new words and she can point out several objects and name them. She also loves to clap her hands and climb the couch and she's really into mimicking what we do. She holds her phone to her ear and pretends to talk on the phone. So cute!
Kisses!