Well, turns out it isn't fall just yet. The sun came out and treated us to a couple of very nice summery days. So I figured it was now or never on slipping in a summery OOTD before pulling out the gloves and scarves again! I picked out two of our favorite outfits today and we both rocked some Burberry check to match! So this is what we're wearing!
My OOTD
I'm wearing a mouse grey pair of jeans by Esprit, A simple white cammy by H&M, a silky top by Broadway, flats by Marc O'Polo, my Burberry bag and rosé gold jewelry.
I'm keeping my jewelry nice and simple today. I'm wearing my new Guess mini phantom watch in silver and rosé gold. I also bought some matching babyproof ear studs to match. The studs are by Zinzi. I used to be all about the big stuff, but my little one loves to pull my earrings when she's tired. This already caused more than enough teared earlobes to last a lifetime, so I'm downsizing!
I'm carrying my good ol' Burberry Bromley bag. It's been with me for years but still looks like I bought it yesterday. I dont think I'll ever part with this bag to be honest. It will probably be hanging from my walking aid some day! Haha! The quality of this piece is just amazing!
I was going through my closetroom and I came across a little shoecabinet I hadn't opened in year. I had no idea what was in it, but these little gems came out! Its always fun to shop in your own closet and find something cool and forgotten. These flats are by Marc O'Polo and I bought them ages ago.
Charlotte's OOTD
Charlotte is wearing a white longsleeve top with a giraffe on it, Burberry shorts (which I love on her since she got the cutest little legs ever!), shoes by Clarks, a ladybug bracelet and a white hairclip.
Charlotte doesn't have her ears pierced yet, so there isn't much we can do jewelry wise. Charlotte will get her ears pierced when she's old enough to ask for it herself. So until that moment arrives it's just an occasional hairclip or bracelet. Which she'll most likely lose by the end of day anyway.
The top was a gift from grandma and I think it's so adorable. It has a giraffe on it with glittery earrings and a black bow on it's head. I love the colors of the print. I think they go really well with the colors in her Burberry shorts!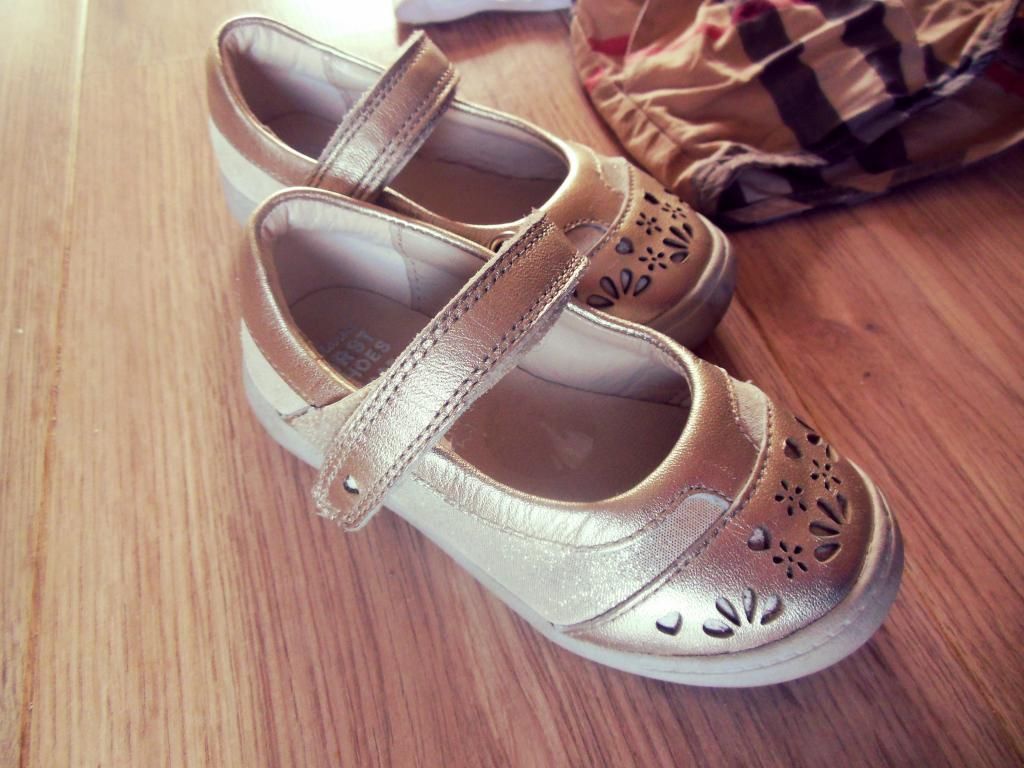 Charlotte's shoes are by Clarks and they are in a lovely champagne color. We got these on sale a couple of weeks ago and they were really cheap! I believe we ended up paying 15 bucks for these. Not too bad for good quality leather shoes!
So there you have it, our mommy & daughter OOTD! Do you still have some nice weather over where you live? Don't forget to take advantage of that and enjoy your favorite summer outfits for as long as you can! See you later!
Kisses!